Fine Pewter Tableware
We are pleased to announce we have added a new line of fine pewterware under our "Art de la Table" theme. It consists of pewter handmade articles fabricated through traditional methods by a master craftsman located in Quebec Canada.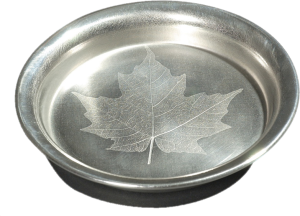 His pewterware is a lead free alloy, non toxic and made from an alloy containing at least 92% tin which is a standard in the trade. The pewter products consist of traditional and contemporary wares incorporating techniques of hammering, engraving, embossing and casting. Some of them are decorated with the textures of natural elements such as leaves and plants. As each pewter decorated item is etched using real plants or leaves, it makes each piece a one of a kind item that will provide a long lasting decoration on your table.
Many tableware pewter articles are available such as butter dishes, cream and sugar sets, salt and pepper sets, napkin-rings, candy dishes, spoons, knife-rests, candleholders, plates, platters, glasses, bottle coasters, ice buckets, placecard holders, vases and a magnificent line of hammered, brushed, polished or textured oil lamps.
Pewter ages handsomely and will provide many years of warm and beauty on your table. Art collectors like old and modern pewter articles worldwide.
You may purchase this bottle coaster on our Pewter Tableware page.
You may see some of those articles on our Cigale et Compagnie website and we intend to obtain more for your pleasure. In the mean time, do not hesitate to contact us if you are looking for a specific pewter item not seen on our website. Visit us / Visitez notre site web