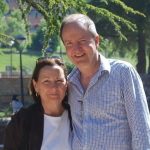 Inspiring Home Design Ideas
Welcome to our Cigale Home Design and Home Decor Blog!
This is where we do, from time to time, present some interesting subjects and images from various part of the world.
You may want to visit our website cigale.ca where we offer various home design articles such as French Provence tablecloths. You will also find hand crafted pewter articles for the table made by an artisan in Quebec and various bedding sets from other parts of the world.
Sharing our Home Decor ideas on Pinterest
Jean and I import various home design articles during the past 13 years now. You may also be interested to visit our inspiring collection of Pinterest boards on the subject of Bedroom, Kitchen, Art de la table decoration and others.
We are both retired teachers. I, Diane, as a retired elementary teacher and I, John as a college teacher in the field of Geomatics and spatial analysis.
Customers may find articles in our blog articles or on our main web site. Also, you are looking for something you do not see? Perhaps we do have it or may be in a position to obtain it on your behalf. Therefore, do not hesitate to contact us if you have a questions.
We wish you a wonderful time.
Diane