Provencal Fashion for Girls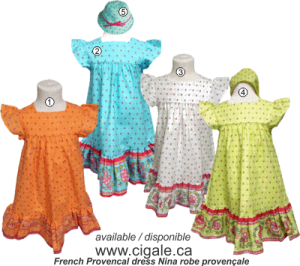 Made in France
Girls' Dresses and Skirts. Whatever your thoughts are when it comes to France – its culture, wine, cuisine, fashion… think Provence, the south of France; add charming villages, orchards and beaches, the smell of baguettes, the sound of accordion to the picture and voila! – you've got a unique fashion style so recognizable all over the planet!
It depicts the life in the southern France most accurately – colorful, charming, cute, lively, cozy, natural… These are the most common adjectives used to describe Provence. And what better and more appropriate words to use – when it comes to big – and small- Girls' dresses?!
Provencal dresses and skirts
Nature-inspired simplicity, that characterizes Provencal fashion for adults, translates to children's clothes as well, although dresses for younger girls are a wee bit different – they're more vivid in colors and patterns. Dresses and skirts are colored with different tones of blue and red, along with more classical natural tones of white, brown, purple and green. Young girls' dresses are more colorful, but as they get older, different tones of the same color become more suitable, especially combined with hints of gray and gentle shades of purple…
Cotton-made materials are easy-to-maintain and usually feature simple, small patterns, such as dots and stripes or big and small flowers. Check out our website for pattern designs – big sunflowers on the blue surface are pretty common, and it is perfect for a light summer dress, a pouch, or even for a tablecloth!
All our skirts and dresses are made in France by a small family firm that specializes in Provencal cloth items – using authentic traditional methods.
Dresses for every occasion
Simple and comfortable enough for everyday activities; yet unique and graceful enough for special occasions!
Girls positively adore these dresses; especially (believe it or not!) – baby girls – yes, they are still completely indifferent when it comes to fashion, but they fully appreciate the freedom of movement they have when wearing them!
Comfort provided by these Provencal dresses and skirts is what makes them so popular and timeless. And perhaps mothers… Indeed, the site of a baby girl wearing her Provencal dress, running barefoot in the garden reminds mothers of an angel; or a big girl, all dressed up for her school recital – I believe it's enough to make every mother's heart full with joy! So, it's probably mothers we have to thank for keeping the Provencal fashion always IN…