Diane, a Brunelli Antik Quilt collection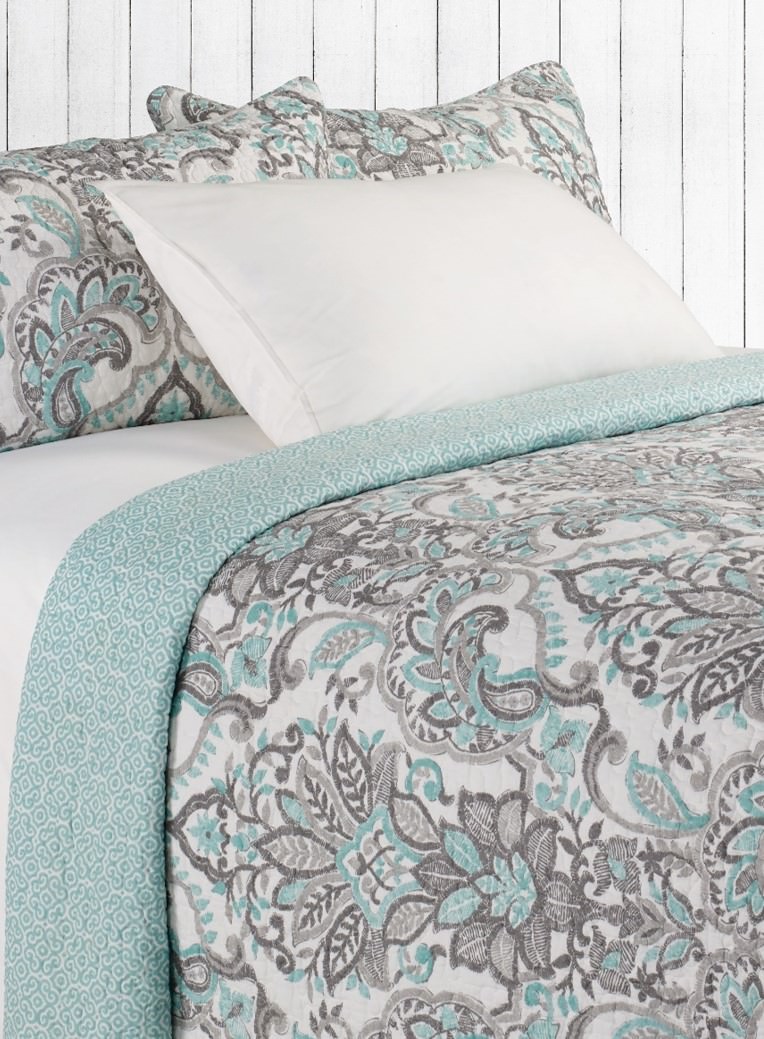 The Diane quilt ensemble
Explore the shades of aqua, grey and white of this Brunelli Diane quilt. It is available in d/Queen, King and SuperKing sizes. The 100% cotton finish and its stylish and modern style will enhance the look of your bedroom.
Sorry, this collection is no longer available
The availability
We stock a wide range of collections. If the Diane quilt is not in our hands at the time of your purchase, we will obtain it from our supplier within 2 to 3 days. We only collect your PayPal or credit card payment at the time of our shipment to you. At that time, we will send you a confirmation and a tracking number.
The maintenance
Most of our products, made of cotton, can be washed and machine-dried. However, as each product may be different, it is important to read the labels and so get the appropriate washing instructions for your Diane collection.
The delivery
Any purchase over $100 will be delivered free of charge by Canada Post Expedited Parcel. This offer is valid for all of Canada. For foreigners, please ask us for an estimate of the additional costs.
The taxes
The following Canadian taxes will be added to the cart: Alberta 5% / British Columbia 5% / Manitoba 5% / New Brunswick 15% / Newfoundland and Labrador 15% / Nortwest Territories 5% / Nova Scotia 15% / Nunavut 5% / Ontario 13% / Prince Edward Island 15% / Quebec 5% / Saskatchewan 5% / Yukon 5 %
Your Satisfaction Guarantee
Within 7 days of receiving your order, we offer a full satisfaction and a full purchase refund policy - no questions asked - if you are not satisfied. Returned or exchanged products must be in the condition you received them and in the original box and/or packaging. We only ask you to contact us to obtain a Canada Post label for the return shipping and, upon receiving, we will immediately refund you the total amount paid for your order.
Secure Payments Guarantee
You may pay by credit card or PayPal. All payment details are collected using an SSL secured server. Once you complete an order you will be notified immediately by e-mail. Your email address and other details of your transaction with us will never be shared with any 3rd parties. In addition, we do not keep, in file or on our server, your payment details.
Looking for something different? Take a look at our main duvet cover page.
We also have cottage and children beddings under our cottage quilts page and also some baby bedding collections available.