A provencal coated tablecloth | Mégève perle rectangular. 100% cotton with acrylic coating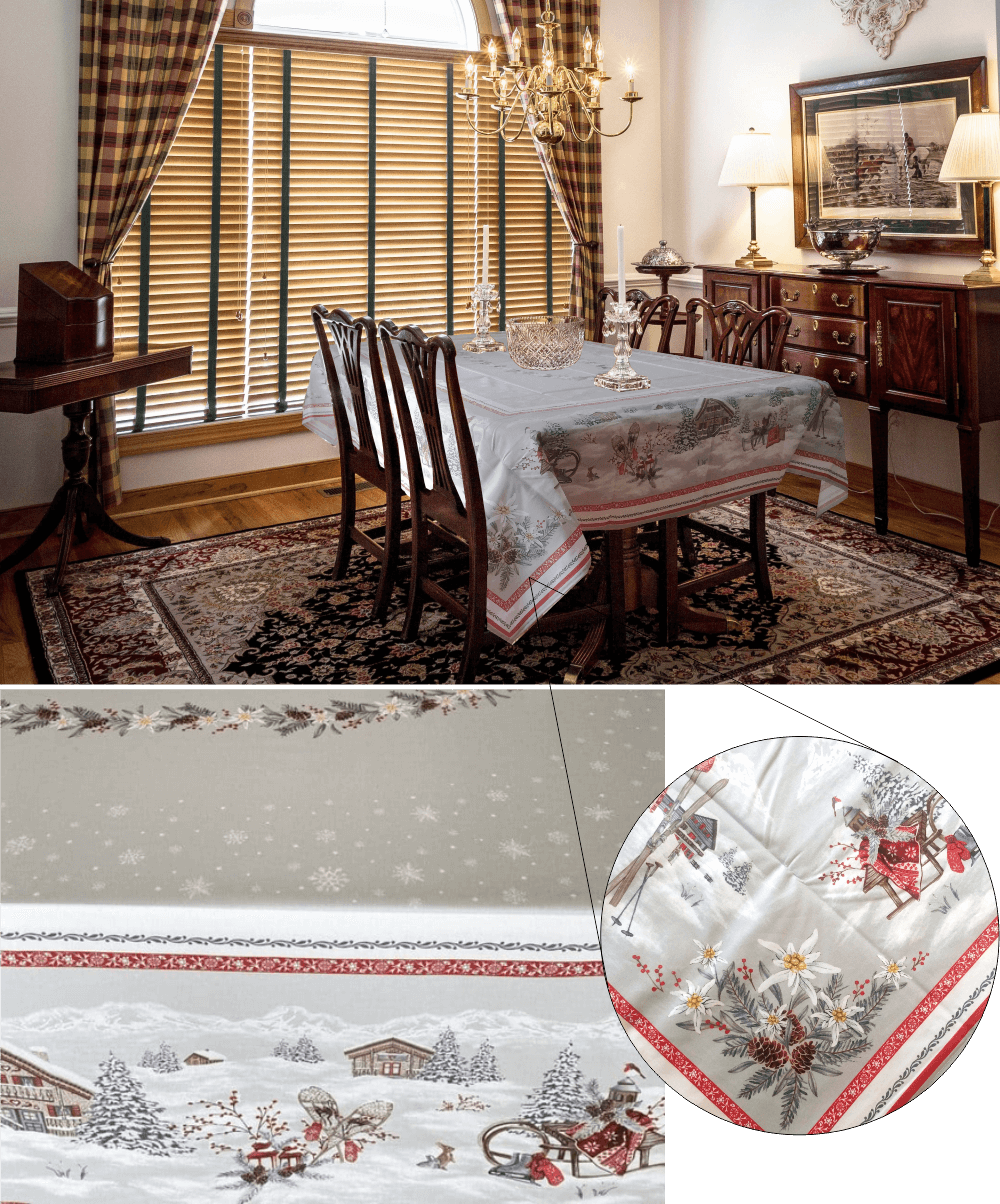 Mégève perle - the provencal coated tablecloth in a rectangular size.
100% cotton coated provencal tablecloth for a touch of elegance and an acrylic coating with anti-stain treatment for an easy maintenance. This very festive tablecloth is sure to charm all your guests at the chalet or at home. You can keep it all winter long without worrying about losing its luster and its effect on your table. Made and imported from Provence, France.
Please indicate the number of items desired.
Product Features:

100% cotton acrylic coated.
30° wash. No fabric softener, little detergent and gentle spin.
Dryer not recommended.
Made in France.
Our tips for caring your 100% cotton Provencal tablecloth with an acrylic coating
Provencal tablecloth 100% cotton treated with a double acrylic coating. The surface of the cloth is covered with a thin layer which protects the fabric against stains and dirt. The fabric remains supple and pleasant to the touch. Convenient to use without compromising the aesthetics, your provencal tablecloth Mégève perle rectangular safran is waterproof (liquids bead, stay on the surface and do not easily penetrate into the fabric). It will keep a new and clean appearance for longer. Its maintenance is very easy, you will only need to use a damp cloth or sponge to remove traces of liquids or food. If necessary, to loosen what is more stubborn, use a Marseille soap or a liquid dish soap.After a complete wash, ironing is essential if you want to reactivate the properties of the coating. It is done by ironing on the back of the fabric in cotton or linen position. You may find more details about the maintenance tips on our French manufacturer l'Ensoleillade. Made and imported from Provence.Do not hesitate to contact us if you do have questions.